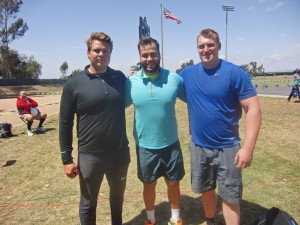 Mesud Pezer the 22 year old from Bosnia Herzegovina qualified for the EC and OG today at the Steve Scott Invitational in Irvine, California. Mesud got second in the meet behind Tim Nedow, Canada that won the meet with an outdoor seasonal best of 20.88m.
This performance by Mesud is amazing as he improved his outdoor PB last week to 20.00m from 19.99m last summer. Mesud improved his indoor PB many times this winter and ended up with 20.22m that was almost a meter farther than last winter. Today Mesud had for throws over 20m, 20.11, 20.58, 20.50 and 20.09.
Mesud has been working extremely hard for this and is worth the ticket to Rio many times and we are all very happy for him.
Tim looked very strong today and had many throws landing around the same distance, then went hard in the last one and fouled a throw around 70 feet, ca 21.32m or so. It is going great for him and we just keep on, remember that his outdoor PB is close, 20.98m. His indoor PB since this winter is 21.33m.
Daniel Ståhl, Sweden was in a league on his own at his favorite place here in Irvine. His two year old PB is since here in 2014 when he hit a huge throw of 66.89m. Today Daniel won the meet with a throw of 64.72m and hit one farther one over 65m that hit the sector line. He had two other legal throws on 63.21m and 63.42m. Daniel did not throw as well technically as in the last two meets but competed well.
Simon Pettersson, Sweden is for sure Mr. Consistency as he threw for the third time in his career 60.28m and equaled his PB. In the four meets here in USA he has had 59.29m, 59.08m, 60.03m and now 60.28m. Then his PB last year was 60.25m and in the ECWT in Arad, Romania he had 60.28m twice in the same meet when he won the U23 class. Simon just needs to continue to work and believe me he was close to hit a bigger one today. It will come as he works very hard every day and is on his way to get much better.
This was a huge day today and congratulations to all of the guys that did great.
VH