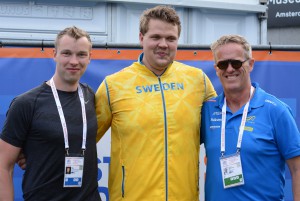 Last year it was a breakthrough at the WC in Beijing where he got 5th with 64.73m. This time it was more like a proof and an everyday thing somehow. Daniel Ståhl has established himself as one of the best discus throwers in the world. Yesterday he got 5th in the EC in Amsterdam in a strong field of discus throwers and threw 64.77m.
Daniel's spontaneous reaction after the meet was that "it was ok but I can do so much more", yes I think we all could see that, he can do much more. I see it that if that is the case, well then it is pretty good to be 5th in Europe and still could have done much more. Then we have something to look forward to.
Daniel had two throws over 62m yesterday and two throws over 64m and two fouls. After the second throw it was not really a question about not being in the top 8 rather if he could grab one of the medals. He was 50 cm away this time and last year he was 45 cm away. It is better to be close than not and he should be happy with the meet.
Now, Daniel will compete in Monaco DL on the 15th, Budapest EA-c on the 18th and then train for the last meet before the OG that will be Karlstad FGP on the 27th. Then off to Rio Major in Portugal on the 30th for a training camp and after that off to Rio on the 5th. He will compete in the discus on the 12th and 13th of August. So, we have good time now to prepare.
Good job for Daniel yesterday and we all congratulate him on an outstanding performance.