Hans Üürik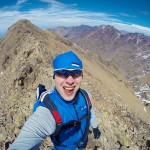 e is the man behind Global Throwing Management – he is an athlete representative to 20 athletes from 11 different countries. Hans is the guy who sits behind the computer and organizes meets, flights, camps, sponsorships etc for our athletes. But he is no ordinary boring office guy, as he is constantly participating in all sorts of marathons. Last week he took the next step and was on a trip in Morocco, where he climbed the highest mountain in Northern Africa.
It took him 4 freezing nights in a tent on a mountain and many acclimatizations hikes to climb 4167m Jebel Toubkal.
Hans commented that it was physically challenging but very rewarding when reaching on top of the Atlas Mountains. He said that climbing mountains is like succeeding in athletics. All it takes is just a lot of time, but if you move on a steady pace and are focused on the goal, you will get to the top.
Hans said that his adrenaline reserve is now full for some time. But actually he has already planned to hike on some of the highest mountains in Brazil during his trip to Rio 2016 Olympics.
You are a crazy man, Hans!
Written by Vésteinn Hafsteinsson