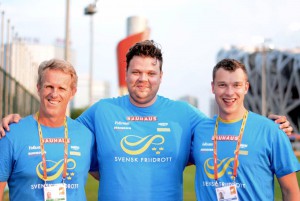 Daniel Ståhl did absolutely great in the final of the discus throw here at the WC in Beijing. He ended up in 5th place with a seasonal best throw of 64.73m and was only 45 cm away from the bronze medal.
This is huge for Daniel and we are so proud of him. The competition ended up being really exciting and fun to watch. Daniel started out well with 61.57m in the first throw and we knew then already that it would not be enough for making it through to top eight for getting three more throws. After a little worse throw in the second round he had to throw close to 64m in the third throw and he did and hit a SB of 64.42m. He then followed up with another SB of 64.73m in the fourth to foul the last two.
Daniel equaled the best throwing performance ever by a Swede in WC. The legendary javelin thrower Dag Wennlund was also 5th in the WC back in 1995 in Göteborg. Sweden has never got a medal in WC in any throwing event. The best discus thrower for Sweden in the WC before yesterday was Stefan Fernholm 12th place.
Daniel Ståhl walks away from here as the best male for Sweden getting 5th at this WC and second best after outstanding 4th place of Angelica Bengtsson in the women's pole vault. He should be very happy with that.
Our hammer thrower Mark Dry from GBR achieved 73.87m in the qualification (and 15th position).
Congratulations to you guys!